"I'm not a morning person". This is one story I've had about myself for much of my life. I felt sad and guilty for not being a "morning person", because ideologically I think of the morning as being fresh, new, full of possibility. I felt like I was missing something, and that if I was really spiritually attuned, I would be that kind of person who naturally woke up with the sun singing like Cinderella to her bird friends in the window. Strangely enough, my shame around being a lazy, morning-wasting person, never inspired me to change!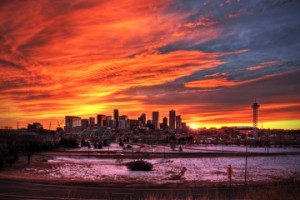 Shame never really does help us to change. It might help identify something that we would like to change about ourselves, but it doesn't give us the energy, the momentum, to shift long-held beliefs and patterns. No, if you're going to change your story about yourself, there's a different process needed.
Here's my current experience of this process, as it's showed up in my daily routine:
The Catalyst
All of my idealistic beliefs about the beauty of morningtime didn't make waking up early more attractive than sleeping in, in the moment. But two weeks ago, I accepted a position at a company in Boulder, 30 miles on a busy highway from my house in Denver. This drive can take 35 minutes, but it can also take an hour and a half, depending on what time you go, weather, and accidents. When I accepted the job, I knew that this was part of the deal, and I decided I would just do whatever it takes to make it work. After testing out various times, I've found that the ideal time to leave my house is between 6:30-6:45am. Not only do I get to work quicker, but I can get back home with time to exercise, cook dinner, and have time with my husband and friends. I've decided that if I want to be happy and healthy I will be waking up in the dark and cold of early morning most days.
Sometimes, like in this example, you provide the catalyst for yourself. You can set it up so that the change is a necessity to make your life work and keep agreements. This is a nice trick I like to play on myself. It's like when you get an exercise buddy so you can help keep each other on track.
Sometimes, the catalyst will seem like something you didn't setup, but is forced on you. Notice your reaction (fear, anger), but also listen deeper for the opportunity for change. Life does work for us, but we need to respond wisely and creatively. Take advantage of challenges to help a dormant part of you awaken.
A New Identity
So I've created and responded to the necessity for change and am now "a morning person". Two weeks ago I wasn't, a week ago I was in denial, and this week I have changed my story. And now, apparently, I am proclaiming that new story to anyone who happens by this blog space of mine. In seeing myself anew, others can see me anew. It's exciting, and a little scary. Will you expect more of me? Will I disappoint myself, or you? What won't belong in my life anymore now that I am "a morning person"? Am I willing to let go of old comforts? Where will this lead?
---
Self-Inquiry
Think about an old story that you have about yourself that you're questioning: "I am a ____ person" or "I am not a ____ person". Ask yourself:
What am I afraid of losing if I changed that story?
Looking at that fear, is it worth it to make the change? (it might not be now, and that's okay)
What could be my catalyst (or motivation) for changing that story? (a new relationship, job, schedule)
Is the catalyst already present, or can I help create it?
What support do I need as I trade in this old story for a new one?
Sign up for Helena's Blog

Welcome!

I am a coach, facilitator and program director in Denver, Colorado. I bring a high-performance mindset from 18 years leading in global corporations, startups, non-profits and Higher Ed. I've also honed skills in emotional intelligence and practical spirituality through training with ICF, Shadow Work®, Insights Discovery and motherhood. If you're ready to do powerful inner work, and also get tangible results in your external environment, please follow my blog and reach out to talk about coaching!