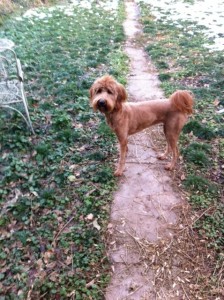 I took my dog Ginger for a walk this afternoon at the City Park golf course, one of the few places I can walk her off leash. She was in heaven–chasing leaves, eating snow, jumping in the air out of joy. I felt a deep sense of peace, of connection, there in the muddy abandoned golf course. And these words kept coming to me:
"This is the day that the Lord has made. Let us rejoice and be glad in it."
Hmmm, a bible quote repeating itself over and over in my head; that doesn't often happen. So I paid attention. What does this mean for me? My experience of "the Lord" is not of a separate far-off masculine God, but of an ever-present Spirit. How do I walk differently, think differently when I am conscious of my Lord-the highest in myself and world around me? I meditated on this quote (from Psalm 118 it turns out) and here is the line of thought that came:
This is the day the Lord has made
This is the day the Lord of Love has made
This is the day the Lord of my Being has made
This is the day I have made
This is the day I am making
This is the day I make
I felt filled with my own power, in partnership with the source of Life. We have the power to create great things, big things, in the world. But the most significant power I was aware of on my walk is the power to create my day: to choose who I will be with and how I will be with them, to decide what I'll respond to how, and to feel grateful or cursed by my life circumstances. At times I feel worried or scared about what is happening, what will happen, in my life. But what brings me back to center is recognizing and rejoicing in the little moments. This is indeed the day that is made for me, for you, to feel and express wholeness. I wish for you, as we enter this weekend, to rejoice and be glad in it!
Sign up for Helena's Blog

Welcome!

I am a coach, facilitator and program director in Denver, Colorado. I bring a high-performance mindset from 18 years leading in global corporations, startups, non-profits and Higher Ed. I've also honed skills in emotional intelligence and practical spirituality through training with ICF, Shadow Work®, Insights Discovery and motherhood. If you're ready to do powerful inner work, and also get tangible results in your external environment, please follow my blog and reach out to talk about coaching!