I've joined a new community recently, the Center for Spiritual Living Denver. I've also started singing with their small choir that leads the group singing throughout service. Having attended a couple of rehearsals, I'm struck by how different it feels to be the "newbie" in the group of close-nit musicians. It is refreshing, weird, and amusing to me to be unknown in a new group of people. I experienced this when I started my current job back in February too, and certainly in many other occasions in my life. Being in that position has been intimidating, exciting, and has always taught me something more about my uniqueness, my issues, and my identity. Here's how you might benefit from being the new kid on the block: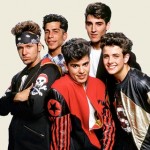 Learn to Express Yourself Anywhere
There's a certain comfort that comes with "being yourself" with people who know and love you. But when you're showing up for the first time, you have to figure out how to express yourself in a way that you feel good about, and is right for that context. For me, I'm usually quieter in a new group–I want to find out what is going on and have humility about the fact that there is already a culture and a system in place. But I have to balance that humility with confidence that I have something useful to bring. Make sure that you are in new settings now and then, where you have to stretch to express yourself–where you can develop the sense that you are who you are no matter where you are. That way, when the proverbial shit hits the fan, you'll be more able to handle it, because you've been challenged before, you've had to know and express yourself "no matter what" many times before.
Face Your Insecurities
What comes up for you when you enter a new context? You better believe that your insecurities are going to come up when you are the newbie, the stranger. "Will I fit in? Will they like me? Is it going to be awkward?" Well yeah, it probably will be awkward. But that's okay.
Listen to your fears. That is really good information for you about what you feel shame about. Those things might not be as obvious when you're with friends, but they're certainly still there, still effecting how you think and feel. When you get more conscious of what your insecurity/shame is about you can do emotional work to heal and transform.
Experiment with Another Part of Your Personality
In addition to expressing the self that you know, explore parts of yourself that you aren't as familiar with. "Try on" parts of your personality that don't get as much airtime in your normal groups of friends, families or colleagues.
For instance, I often take a leadership role in projects I'm involved in. I tend to be pretty opinionated about what I think should happen, and have certainly been accused of being bossy in the past. In past choirs, I've often been a soloist and organizer. But in this new choir, I'm more of a backup singer. They have a couple of great soloists, and a very strong organizer, so I am settling into playing a supportive role. That's good for me. I don't have to control, or plan, or be the star. I'm participating in a different way.
What's a part of you that you haven't given time for lately? Take the opportunity to let it out with some strangers. If it feels silly, or unfamiliar, it doesn't matter because they don't know you anyway!
---
I encourage you to find a new context to get to know and express yourself in. Maybe you'll find, as I do, that it's fun to gradually unfold yourself in front of others–like you have a secret you're slowly sharing. It's amusing to see what assumptions people make, and how far from the truth it might be. Or, maybe they do see something true about you that you never saw before! Whatever happens, stay flexible, and be willing to laugh at yourself in the process.
Sign up for Helena's Blog

Welcome!

I am a coach, facilitator and program director in Denver, Colorado. I bring a high-performance mindset from 18 years leading in global corporations, startups, non-profits and Higher Ed. I've also honed skills in emotional intelligence and practical spirituality through training with ICF, Shadow Work®, Insights Discovery and motherhood. If you're ready to do powerful inner work, and also get tangible results in your external environment, please follow my blog and reach out to talk about coaching!