I cry when I read the book "Wherever You Are, My Love Will Find You" to my son. It's amazing how children's books can touch the heart so deeply, with their combination of words and illustrations. I wondered why this one was getting me every time, so here are the words, and my thoughts below: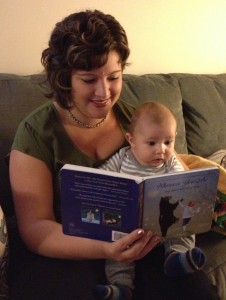 I wanted you more
than you ever will know
so I sent love to follow
wherever you go.
It's high as you wish it. It's quick as an elf.
You'll never outgrow it…it stretches itself!
So climb any mountain…
climb up to the sky!
My love will find you.
My love can fly!
Make a big splash! Go out on a limb!
My love will find you. My love can swim!
It never gets lost, never fades, never ends…
if you're working…
or playing…
or sitting with friends.
You can dance 'til you're dizzy…
paint 'til you're blue…
There's no place, not one,
that my love can't find you.
And if someday you're lonely,
or someday you're sad,
or you strike out at baseball,
or think you've been bad…
just lift up your face, feel the wind in your hair.
That's me, my sweet baby, my love is right there.
In the green of the grass…in the smell of the sea…
in the clouds floating by…at the top of a tree…
in the sound crickets make at the end of the day…
"You are loved. You are loved. You are loved," they all say.
My love is so high, and so wide and
so deep, it's always right there, even
when you're asleep.
So hold your head high
and don't be afraid
to march to the front
of your own parade.
If you're still my small babe
or you're all the way grown,
my promise to you
is you're never alone.
You are my angel, my darling,
my star…and my love will find you,
wherever you are.
You are loved.
~ Nancy Tillman
Being a mom is showing me how big my love is
I just love this kid so much. People talk about it feeling like your heart could burst. It does hurt a little, this motherly love and feeling of protection. It really does feel powerful enough to go with him wherever he is for the rest of his life. If I could save him from ever being hurt I might try. But I can't, and I know he has his own path to walk. What I can do is instill values, self-awareness, and a sense of service. And just freakin' love him like it's my job.
I am loved like that
I also cry because of how grateful I am that my parents loved me like that–powerfully, unconditionally, forever. So no matter what challenges I face, that is a source of confidence and completeness in me. No betrayal I face will change the fact that I am loved. And that has made all the difference.
Some people don't know that love
This is the part that makes me well up now as I'm writing–knowing that not everyone knows that they are loved no matter what. And how that shapes their experience. It gives me compassion for destructive people. Whether they weren't shown love as children, or they just couldn't let it in for whatever reason, or it was taken away, they do not know that love follows them wherever they go. And without that foundation, life's troubles beat them down.
Everyone IS followed by love wherever they go
Whether you know it or not, you are loved wherever you go. Let love find you, the abiding love of God, or the Universe. Love yourself. Love people around you, and you will feel loved.
Take a moment to feel cradled in this kind of love. Read the poem to yourself like you are a child again, and believe the words. Know that you are worthy of that kind of support–that something sees you as uniquely perfect, innocent, and whole. You are never alone!
Sign up for Helena's Blog

Welcome!

I am a coach, facilitator and program director in Denver, Colorado. I bring a high-performance mindset from 18 years leading in global corporations, startups, non-profits and Higher Ed. I've also honed skills in emotional intelligence and practical spirituality through training with ICF, Shadow Work®, Insights Discovery and motherhood. If you're ready to do powerful inner work, and also get tangible results in your external environment, please follow my blog and reach out to talk about coaching!